Tranmere Rovers' next two league games have been described by promotion winning captain Steve McNulty as 'six-pointers'.
The Whites, currently inside the League Two relegation zone, will face two of their drop zone competitors in their next two league games, starting with a Prenton Park showdown against Forest Green Rovers on Saturday.
Forest Green and Tranmere used to consistently battle it out for promotion from the National League, eventually culminating in the 2017 play-off final which gave McNulty 'probably the worst day' of his career.
MerseySportLive spoke to the former Rovers captain who admitted that FGR always gave The Whites 'tough games'.
McNulty also spoke about the struggles that Tranmere are facing this season.
The conversation started with that defeat at Wembley six years ago, as The Green were promoted to The Football League with a 3-1 victory.
Being 'overconfident' was Tranmere's downfall in the eyes of the captain, who 'didn't contemplate losing'.
"Our confidence was so high so it was a really tough pill to swallow".
The two clubs had played twice in the league before the final, Rovers losing the last meeting 1-0 with a goal scored late on at Prenton Park, and McNulty believes that The Whites had 'done well' in those games, 'containing' their rivals' pacey attacking line.
However, he also believes that "the best side won on the day" as FGR 'deservedly' secured their historic win.
The player that scored that day for Tranmere was re-signed this summer, club legend Connor Jennings.
The 32-year-old has been one of the very few shining lights from an incredibly poor start to the 2023-24 league season.
McNulty spoke about the man who, in 2018, came off his death bed to assist James Norwood's late promotion winning goal for the club, in depth.
"I'm not shocked that he's one of the team's standout players, as I know what he brings to the team. He's a winner, a leader and he gets the most out of the players around him.
"He's probably not as technically gifted as most in the team, but his work-rate, desire, his will to win and ability to get around the pitch more make up for what he lacks. The club need to get a few more in like him if they're to climb up the table".
After having won promotion from The National League via the playoffs in 2018, beating Boreham Wood in the final, in 2019 Tranmere got their 'own back' on FGR as they progressed to Wembley, beating The Green over two legs in the play-off semis.
McNulty sat on the bench for those games as even though 'Micky said before the game he wanted me to play for my experience', the captain's 'match fitness wasn't great' having spent a long period out of the starting eleven.
McNulty recalled those two games "We dominated, we were never really put under much pressure. They were great nights, with a great trip home from the game at The New Lawn – FGR's ground".
In the final that followed, against Newport, McNulty played the last ten minutes – surprising everyone as they believed that the team needed an attacker to come on rather than a defender, to find a winner late on.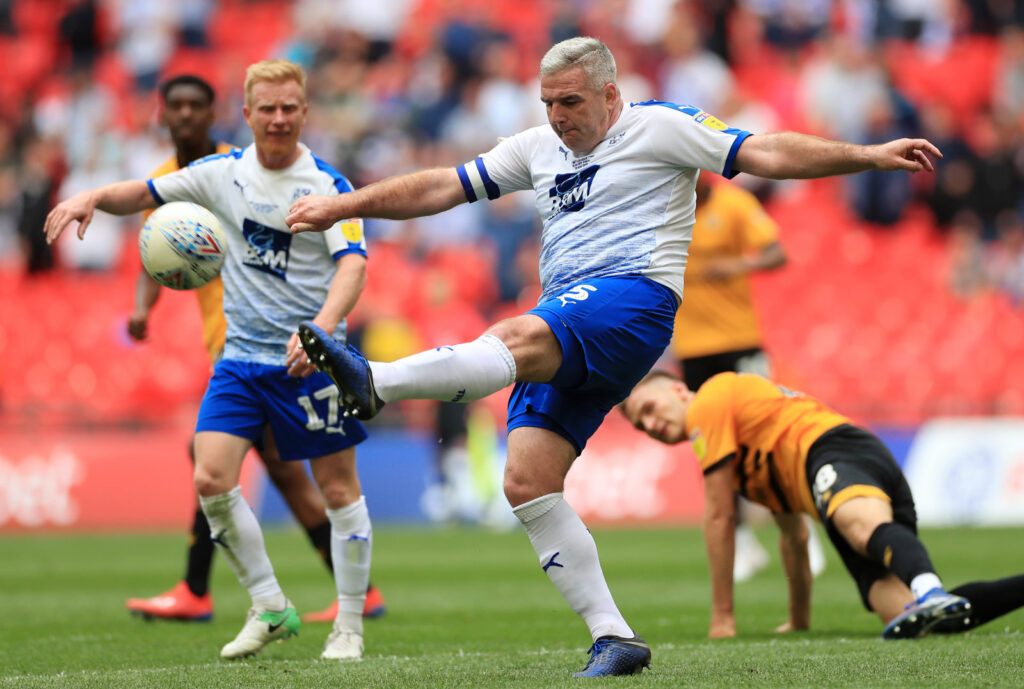 The change proved a tactical masterstroke from then manager Micky Mellon, as McNulty dominated the defensive third and drove his team on to victory.
"It was a surprise for me, I travelled down expecting to not get on, but Micky had seen something and wanted to change it.
"It was a great day for everyone, I'm glad to have played a little part in it".
I assured McNulty that the part he played was much more than 'little', as in the eyes of many, he changed the game. With McNulty on the pitch, Jennings netted in the last minute of extra time to spark jubilant scenes among the travelling Super White Army.
We then moved on to speaking honestly about the current team, McNulty taking a long pause and letting out a slight laugh before doing so.
"Without writing them off?! They're struggling at the moment. I've seen the majority of the games and one of the stand out performers has been Jennings who was there with us.
"I don't know how to put the criticism in the best possible way, they've just been conceding goals, there hasn't been enough fight, there isn't enough leaders. There is a lot of work to be done which hopefully Nigel, now he has been appointed (as permanent manager), will do.
"I have no doubts that they won't go down, I think they'll be fine and finish mid-table which most fans will take after the start they've had.
"I have everything crossed that they can change things 'round and move up the table but it will be a tough old season".
The Tranmere sides that McNulty was involved in had many dressing room leaders, and he believes that 'a couple more leaders and winners need to be added in January'. He also believes that there isn't many 'homegrown' players in the current squad.
"There aren't many players from the Wirral or Liverpool in the team, players that know what it means for the local area.
"There is plenty of ability in the squad but the team need players that are able to bring the best out of those who aren't performing well.
"It has been far too up and down and some consistency needs to be found".
The greatest issue is the teams inability to defend, conceding 29 in the league this season as well as shipping four on the road against Stevenage in a Round One FA Cup exit.
"Centre halves Jordan Turnbull and Tom Davies have been sent off and things like that, so the backline keeps chopping and changing when it's of great importance to get a stable backline.
"There has been a right footed player playing at left back, Dan Pike, the full backs have been changing a little bit.
"Goalkeeper Luke McGee has been great, another one of this season's few shining lights but the team needs to get a settled back four and get used to each other.
"If they keep clean sheets, there's lads in the team who have proven they can score goals.
"They have been scoring, they're not goal shy but they can't be expected to score so many to win games. It's been tough on the lads up top and in midfield".
Tom Davies, signed in 2021 from Bristol Rovers was made captain this summer after impressing since being brought to the Wirral. However, he has struggled in his new role.
McNulty spoke about his character despite not knowing him personally.
"He seems a great character and someone that people will be looking at so there will be pressure on him, he's going to have to find a way to lead and to rally the team".
The two upcoming league games are massive for Tranmere despite the season still being in its opening stages.
McNulty gave his prediction.
"Whoever turns up on the day will win those games, the two clubs are down the bottom with us, so it's important to push up the table.
"We've both had bad starts to the season, I don't like to say it this early on that they're both six point games, but they are, so it's important to take maximum points. These games may be the ones where confidence can be taken from to push up".
Goalkeeper Scott Davies, who retired in 2021 after picking up a significant injury in a game towards the end of the season, was also captain alongside McNulty in an era where Tranmere won two promotions.
Davies has recently opened up about his mental health since his career ended, in a greatly significant and emotional episode on the A Trip To The Moon Podcast.
Our conversation finished, speaking about hearing of his fellow teammates difficulties.
"It's tough. You sort of lose contact with lads as you go your own ways since you've got your own mates away from football. I had sort of lost contact with Scott, I speak to Micky now and again and have heard whispers that he has been struggling which is really not nice to hear.
"I wish him the best, I've spoken to him on the odd occasion and always said to him that he knows where I am if he ever needs me. It's tough for the big characters to open up, I just hope that he gets better, it sounds like he's on the road to recovery and I do believe that he will reach out if he needs me".