Harrogate Town FC meeting the opposition.
When Micky Mellon was dismissed, it was decided that his assistants Ian Dawes and Andy Parkinson would be Tranmere's interim managers whilst the search for the next appointment develops.
I personally hope that the new man, whoever that may be – hopefully The Cowleys or Karl Robinson, comes in before the 2022/23 season finishes so he/they has enough time to see which players need to leave or stay.
However, in the meantime Dawes will get The Whites playing a diamond in midfield, as he says that it gives the team a lot of passing options, and the system picked up a point away at Colchester United last time out.
Harvey Saunders scored that afternoon, his first in twelve and the pacey forward will be hoping that he can add more to his tally as soon as possible.
Rovers' next challenge is a Friday night tie at home to Harrogate Town, The Sulphurites are placed 20th in League Two thus will be fired up to keep away from the drop zone.
I spoke to Town fan Neil Hirst ahead of the game.
Harrogate Town finished 19th in League Two last season and are currently placed 20th as we start to enter the business end of the campaign. How would you describe the past year?
I think it's fair to say a mixed bag. For perspective, my personal goal for Harrogate this season was much the same as the previous season – the unambitious but hopefully realistic ambition of staying in division 2. The previous season, we got off to a flyer and after smashing Swindon 3-0 in the first game, we were buoyant. Things basically went downhill up to Christmas with some heavy defeats, the goals dried up and the soul crushing dropping of points in the last few minutes on more occasions than I care to mention. A decent festive season followed and then thankfully, the January transfer window opened and we're grateful it did. I knew after watching Rochdale that we had at least one team that was considerably poorer than us so the hope was that there were some other teams that would fail to scoop up the points to keep out of the bottom two.
In the January transfer window, players such as Bradford City defensive midfielder Levi Sutton and Pittsburgh Riverhounds winger Toby Sims were recruited. How have they settled in and were all the issues that needed to be addressed focused on?
The transfer window was undoubtedly successful and plenty of the lads who joined in January have gone on to secure first team spots. We essentially have a new back four (suspensions and injuries aside) with fullbacks Founds and Sims full of energy and two experienced and physically strong centre backs in O'Connor and Eastman. The latter has been an absolute beast and fellow relegation candidates Colchester must be kicking themselves for letting him come to us. In the engine room, Levi Sutton has been a useful addition and offensively, Kazeem Olaigbe who we got on loan from Southampton has been a revelation. All in all, some great recruitment work.
Harrogate's manager is Simon Weaver, son of Owner Irving Weaver. He has been at the club since 2009. What are your thoughts on him, his playing style and his relationship with fans?
I've been pondering this one for a while. We're doing well to compete and stay in with a chance of maintaining our division 2 status. If I'm being critical, his 'in-game' management doesn't always inspire and I think that he can sometimes take too long in making subs/changing the plan if it isn't working. In terms of his playing style, the team has definitely evolved, likely due to the January squad additions. We might not wrack up that many wins but we're not losing that many either. As for his relationship with the fans, I stand right by the dugout so get to see him at quite close quarters. There have been many occasions, especially at away games, that he's been booed and fans have been asking for him to go. That has definitely subsided now. As a person, he doesn't seem that animated at all. If you think of Klopp as the manager winding up the crowd, full of charisma and totally engaging, Simon Weaver is the polar opposite. It doesn't make him a poor manager or a bad person, he just isn't that character.
As mentioned above, Irving Weaver is the Owner of The Sulphurites. What are your thoughts on him, the relationship he has with fans and the plans that he has for the club?
The Chairman is well thought of in my opinion. The latest financials on the club show a £1.1m loss in our second season in division 2 and there is a clear reliance on Irving who has injected a further £700k into the club from June '21 – June '22. Importantly, the fans are now seeing the ground being developed (partly to achieve the minimum standard for a division 2 club) but also the infrastructure and youth/junior and ladies team developments.
One man to watch out for on Friday night is Luke Armstrong, he has 12 goals and 3 assists in 40 games. How would you describe his playing style and the importance to the side?
Luke Armstrong's most obvious asset is his aerial ability. He wins headers and a lot of them. Very strong at holding the ball up, Luke is deceptively nimble and grafts hard which endears him to the crowd. Importantly, he scores our goals and is an important lad defensively on set pieces. People of an age might remember his dad, Alun Armstrong who played for plenty of clubs such as Middlesbrough and Ipswich.
Where will the key battles be played out at Prenton Park?
Tranmere fans will have to keep an eye out for Olaigbe who is pretty rapid and usually on the left side of the park. There's also some great darting runs from Pattison who is a fan favourite.
My stand out memory from Tranmere's last visit to Wetherby Road was your right back Dacres-Cogley. I thought he was thoroughly amazing with top notch quality crossing and great runs. There is no doubt that he could play at a higher level given his standard.
What is your score prediction? The last time the two clubs came head to head was last October as Tranmere defender Jordan Turnbull scored a second half equaliser at Wetherby Road.
Whilst I live in Skipton in North Yorkshire, I was born and raised in Mossley Hill, Liverpool so I've always had a soft spot for Tranmere. I remember being in the Dovedale Towers pub for that FA Cup match with you and Southampton twenty odd years ago. However, as my son was born in Harrogate, I have adopted them as my team and won't hear of any other result than us coming away with something. I think we'll score but I think you will too. If I'm bold, I'll say a 2-1 Harrogate win but we do like a draw so the rational part of me is saying 1-1.
What are your thoughts on The Rovers? Are you expecting a bounce back as Micky Mellon was recently relieved of his duties? Tranmere are far away from where they would have hoped to have been.
It's clear you've been through a rocky patch and I think Micky's time was clearly up given the results. The match on Friday, from a managerial perspective, are the two extremes. You've got the longest serving manager out of the 92 clubs in Simon Weaver versus Ian Dawes who has been in the role less than a fortnight. Will there be a bounceback? Well, hopefully not on Friday night but looking ahead at April, with the possible exception of Carlisle (who we beat 1-0 away from home no less, admittedly with an own goal), you've got some highly winnable fixtures in April so yes, there really should be. With some more than decent players, I'm sure you can finish the season on a high.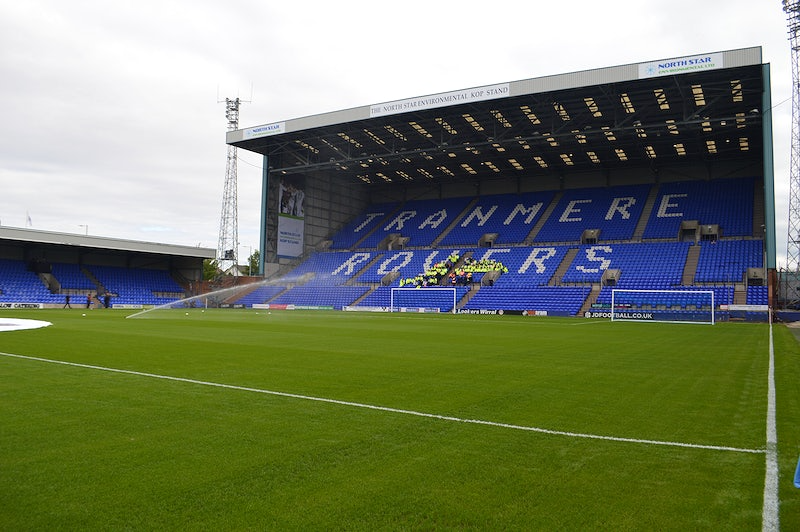 Rovers are back at Prenton Park this weekend, they have a mixed run of form here as they have won and lost one of their last three. Harrogate were beaten 2-0 when they last travelled to Merseyside, Lewis Warrington and Kane Hemmings netting in the second half.